Genesis Companies Breaks Ground on Senior Supportive Development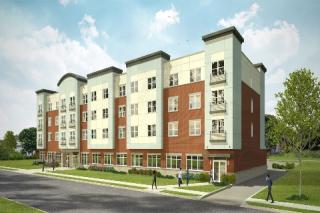 GENESIS COMPANIES BREAKS GROUND ON SENIOR SUPPORTIVE HOUSING DEVELOPMENT, BUILT IN PARTNERSHIP WITH EAST ORANGE HOUSING AUTHORITY  
60-Unit Residence for Seniors and Adults with Disabilities Celebrates Groundbreaking
East Orange, NJ (May 11, 2021) – Genesis Companies, a community-focused real estate development firm, today announced the groundbreaking of 160 Halsted Street in East Orange, New Jersey. In partnership with the East Orange Housing Authority and fellow co-developer The Metro Company, Genesis Companies will develop a new, ground-up 61,000-square-foot senior supporting housing development. The 60-unit building will be 100% affordable and comprised of 52 one and 8 two-bedroom residences. Genesis is participating in the Service for Independent Living program for all seniors.  While in conjunction, supportive services, through Bridgeway Rehabilitative Services, are available to residents through the Housing Authority's existing programs and several units will accommodate the needs of residents with disabilities. The partnership guarantees the long-term affordability of the residences.  
"Investing in strategic redevelopments is the first step towards reinvigorating the property and providing a higher quality of living for all its residents," said Mayor Ted R. Green. "We applaud Genesis Companies and the East Orange Housing Authority for its commitment to building quality, affordable housing and hope the success of this redevelopment sets an example for future investments."
"The need for quality, affordable senior retail residences is urgent across the state of New Jersey and public-private partnerships, like this one, provide a framework for future developments," said Karim Hutson, Founder and Managing Partner at Genesis Companies. "As real estate developers, we are pivotal in creating solutions that meet the needs of our communities and we're proud to be advancing developments across the region that provide housing for those with the greatest need."  
The residences will be available to very low, low and moderate income groups, with 25% of the projects specifically set aside for homeless in need of permanent supportive housing in the county.  
"This redevelopment, part of our 'Building Homes, Changing Lives' program, will greatly enhance the quality of life for the property's residents and provide services that are too often overlooked," said Wilbert Gill, Executive Director of the East Orange Housing Authority. "As we continue to create new solutions to maintain affordability for all our residents, partnerships with companies like Genesis Companies are more important than ever."
Financing for the project's rehabilitation was originated by Citibank, N.A., Bank of America, National Equity Fund LIHTC Equity, US Department of HUD and Federal Home Loan Bank AHP Grant. DMR Architects designed the senior supportive housing development in collaboration with general contractor ETC.
About Genesis Companies 
Genesis Companies is a full-service real estate development firm that specializes in financing, developing and operating mixed-income and mixed-use residential projects. Since it's founding in 2004, Genesis has been committed to strengthening communities across New York and New Jersey through disciplined real estate analysis, investment and innovative approaches.