Genesis Companies Announces New Hires Across Divisions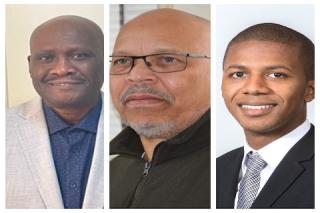 Following its recent equity investment from TruFund's Impact Developers Fund, Genesis advances strategic growth plan
NEW YORK, NY (April 12, 2021) – Genesis Companies ("Genesis"), a full-service real estate development firm specializing in financing, developing and operating mixed-income and mixed-use residential projects, today announced three new professionals have joined the Company. Anthony Anderson has been appointed Chief Operating Officer; Basil Marshall has assumed the role of Project Manager, Residential Construction; and Malik Brown has joined Genesis as Development Associate. Last month, Genesis announced they received an equity investment from TruFund's Impact Developers Fund, which will allow the firm to continue to grow internal capacity, execute more efficiently and leverage increased liquidity.
"Following the TruFund investment, we were eager to put that capital to work as quickly as possible and move forward with our plans to grow," said Karim Hutson, Founder and Chief Executive Officer. "Our culture and focus continue to attract the very best talent and we are excited for our new colleagues. We are also working diligently to expand the Genesis platform, allowing us to increase our impact and optimize our business model while remaining focused on creating better urban centers for our residents and our local communities."
As COO, Mr. Anderson will focus on strategic initiatives, investor relations and compliance at Genesis. He will also be responsible for extending the firm's financial resources, optimizing its financial structures and ensuring operational best practices. He joins Genesis from PricewaterhouseCoopers' (PwC) U.S. Banking Group, where he led the Leasing and Finance Company practice. In this role, he acquired extensive experience with analyzing and creating innovative financings, handling large foreign transactions and advising aircraft lessors as well as significant real estate advisory experience.
Mr. Marshall has joined Genesis to lead the Company's efforts to improve and optimize the physical plant of its residential buildings. He brings over a decade of experience supervising capital improvements and leading construction teams, including architects, HVAC contractors, boiler repair technicians, plumbers, carpentry workers, supers and porters. Basil's motivation is his passion for repairing and building comfortable living spaces that are accessible to all. Prior to joining Genesis as Project Manager, he served in a similar role for New York Residential Works. Mr. Marshall is well versed and highly proficient in addressing building violations, always ensuring that construction and repairs are performed at a high level and in compliance with current codes.
Finally, Mr. Brown has joined the Company to provide project management support across a variety of the firm's verticals. Working closely with Genesis' senior staff and project managers on projects that are in various stages of development, Mr. Brown is responsible for assisting in the analysis and execution of projects from initial concepts to stabilization. Prior to joining Genesis, he worked as a Development Associate at Metro Futures LLC. In this role, Mr. Brown was involved in all aspects of client management, zoning and land use analysis, public relations, marketing, and business partner relations.
Genesis has a more than 16-year track record of developing workforce, affordable and market-rate housing for individuals, families, seniors and veterans creating personal relationships with the local communities they serve.
                                                                                      About Genesis Companies 
Genesis Companies is a full-service real estate development firm that specializes in financing, developing and operating mixed-income and mixed-use residential projects. Since it's founding in 2004, Genesis has been committed to strengthening communities across New York and New Jersey through disciplined real estate analysis, investment and innovative approaches.   Genesis' decades of combined leadership experience in multifamily development includes the development of workforce, affordable and market-rate housing for individuals, families, seniors and other supportive housing. Genesis has developed a reputation for transforming underutilized or under-performing real estate assets into quality, energy-efficient projects that enhance urban centers, while remaining accessible to the residents of these communities.
All media inquiries should be directed to Erin Holin, Genesis Public Relations manager at Genesis@berlinrosen.com